Before the mass exodus on Gamespot,I used to do an annual game of the year award blog,where I'd mention my overall favorite game,plus my favorite game from each genre.Anyways,I thought I'd catch up a bit,and I'm only going to count games that I've played.
2016
The Eden of Grisaia
I'm going to cheat with this award,because the localized version of this game came out early in 2017,but it won't stand a chance against Persona 5,and since I didn't play many other titles in 2016,I thought I'd count this as being close enough to a 2016 game.
The grisaia series is about troubled people,who are sent to an academy,that's really a prison,so they can get educated,and put on the right path.Skip forward to the 4th game in the series,the main character(Yuuji) is suspected of terrorism,but at the same time,you see how him and Yumiko have created a romance,and want to live a relaxing life together. It's hard to talk about the plot without giving away spoilers,but I love this game because of the artwork and peaceful feeling it gives.Here is an example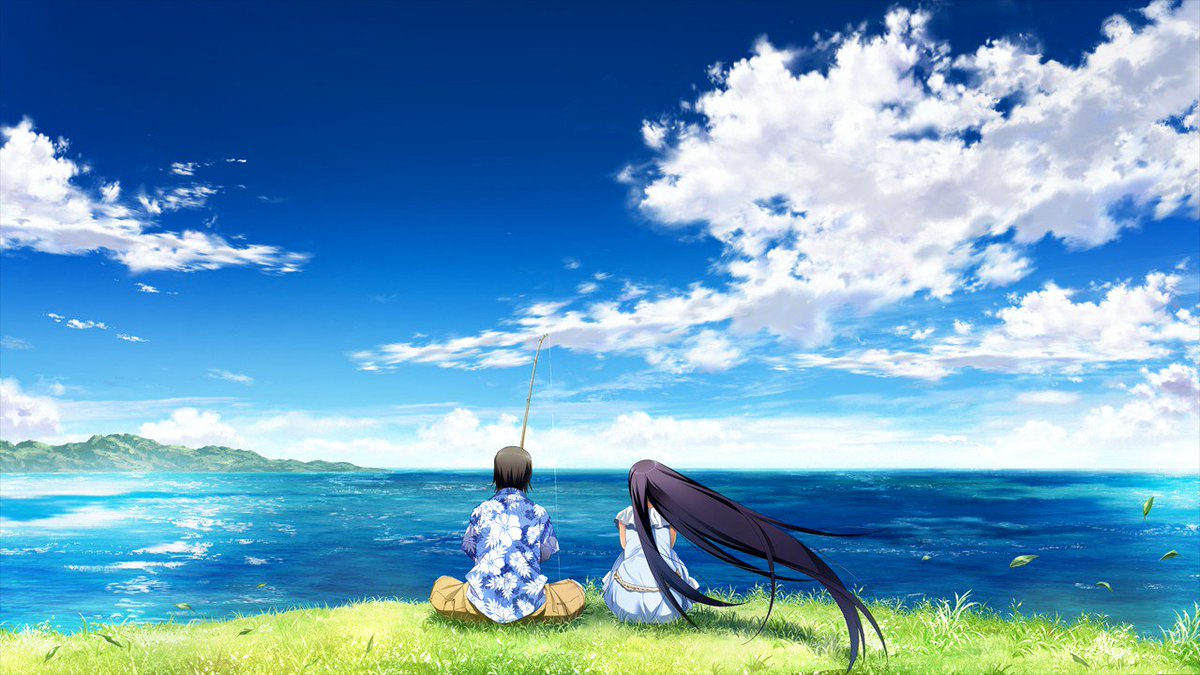 Honorable mentions No Man's Sky and World of Final Fantasy.Incase you're wondering,I don't own a PS4,hence I haven't played Uncharted 4.
2015

Witcher 3
Memorable quests/characters,romance,and a huge world to explore make this game my favorite game from 2015.I like how you see the world affected by the decisions you make.It's combat is fluid and requires various strategies with various weapons on the harder difficulties.You can spend 100 hours exploring it's world and discovering many interesting stories within it's world.

Honorable mentions Metal Gear Solid 5 and Life is Strange
2014

Ar Nosurge
A creative and unique story,in which 2 pairs of characters begin on separate adventures,so you will see 2 separate stories viewpoints for a while,and 1 of the character pairs have a friend who is in possession of an ancient song magic that could be used to defeat aliens who have oppressed the human race,but she has gone missing.
The story has some interesting plot twists,and is quite funny,and has an adult feel,despite being anime style.The game has romance choices as well.It's combat system isn't great,but at least it's different.
Honorable mentions Akibastrip and Wolfenstein NWO.

2013

Fire Emblem Awakening
A lot of likable characters,lets you create romance and make children with your partner,and the permadeath will make the story emotional when a character dies,and can be tactically crippling for your party.The battle system has a lot of tactical depth,with many different unit types with various strengths and weaknesses,and it takes place on a grid style system.I like how the story has numerous things the characters need to deal with at once.
Honorable mentions Beyond Two Souls and Ni No Kuni.
Game of the years for previous years:-2012-The Last Story

2011-Yakuza 4

2010-Heavy Rain

2009-Star Ocean The Last Hope

2008-Final Fantasy VII Crisis Core

2007-Persona 3

2006-Kingdom of Paradise AKA Key of Heaven(PAL release date)

2005-Jade Empire

2004-Clannad

2003-The Legend of Zelda Wind Waker

2002-Shenmue 2(Xbox version)

2001-Final Fantasy X

2000-Final Fantasy IX

1999-Final Fantasy VIII

1998-StarCraft

1997-Final Fantasy VII

1996-Super Mario 64

1995-Phantasy Star IV

1994-Donkey Kong Country

1993-Disney's Aladdin(SEGA MEGA DRIVE/GENESIS version)

1992-Sonic The Hedgehog 2(SEGA MEGA DRIVE/GENESIS version)

1991-The Legend of Zelda A Link To The Past

1990-Super Mario World(Japanese release date)

1989-Mother

1988-Phantasy Star

1987-Final Fantasy(Japanese release date)

1986-Starflight

1985-Super Mario Bros

1984-Paperboy

1983-Ultima III